Chicken Satay Bento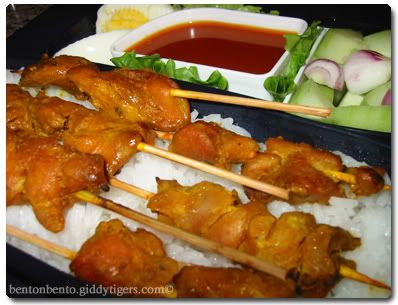 Inspired by what looked like incredibly mouth-watering bentos to me in Bento Delights' Uniquely Malaysian Bento and Hijack Queen's Skewed Turmeric Chicken bento, I finally took matters into my own hands and tried making my very own chicken satay!
Chicken Satay Marinade
Turmeric powder
Honey garlic dip (I got these from Safeway, and I used it because I didn't have any honey on me)
Sugar
Salt
Dash of pepper
A little bit of crushed black peppercorns
Originally, I had intended to use chicken thigh fillets, but they weren't available in the supermarket yesterday, so I removed the skin from the chicken drumsticks that I had and cut out the drumstick meat instead.  I saved the drumstick bones to make herbal soup 🙂
I mixed the marinade with the chicken fillet and fixed them onto bamboo skewers before putting them into a Pyrex container in the fridge to sit for at least 6 hours.  Then I baked them in the oven at 350ºF till done, turning them over once.  I suppose if you have a grill function, it is best that you use that to grill the satay.
The satay sticks were then placed atop steamed rice in bottom compartment of the bento.  The top compartment held chunks of onions and cucumbers (Malaysian satay style) and a small container of satay sauce, which I managed to buy ready from the stores, thanks to Lee Kum Kee.  (I ought to try making the peanut sauce myself too, one of these days)
I added a hard-boiled egg for added color and to fill up my hubby's tummy.  Looks delicious, no?