Very useful cookie cutters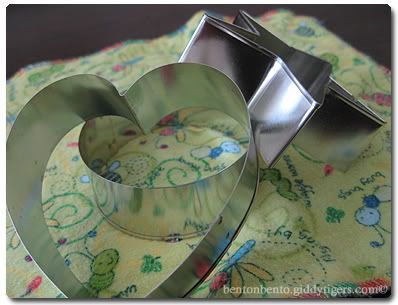 I bought a set of three cookie cutters last weekend.  The set costs USD2.49 for three shapes: circle, star and heart.  And I have been using these to jazz up meals for my picky eater ever since. 
I asked him if he would like to have a star sandwich and his face lit up in amazement.  I brought out the bread and butter, spread the butter on the bread and taught him how to cut the star shape out.  He finished the entire STAR!  I've even used these cookie cutters to place steamed rice in, just so it creates the shapes for fun.  Sure helps a lot with eating the rice! 🙂
Yesterday I even ventured so far as to try making a happy face rice with the circle cookie cutter, and some cut up nori.  These cookie cutters sure are essential items in any bento packer's collection!