Bento with Mother's Cookies
About a month ago, I received an email from the Editorial Team of Foodbuzz with regards to their Tastemaker program.  I had expressed my interest to become a Tastemaker participant sometime back, and Foodbuzz was now inviting me to sample the latest Mother's Circus Animal Cookies.
Well, of course I agreed…and look what the mailman brought yesterday…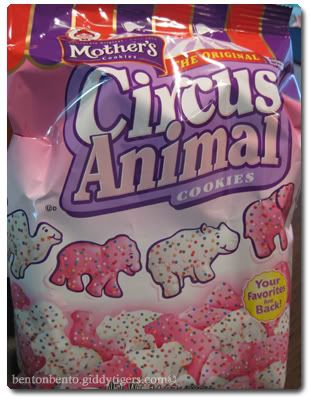 Mother's Circus Animal Cookies is apparently an old-time favorite, but strangely enough, although I had not heard of it before this, the taste of these cookies do evoke a certain nostalgia, like I have tasted them before.
Anyway, they were all animal-shaped cookies coated in pink or white glazed sugar and sprinkled with colorful sprinkles.  I knew they would make a wonderful bento for my son.
So he had Hainanese chicken rice, with slices of cucumber, sliced strawberries and some Mother's Circus Animal Cookies.  The moment he saw his bento, he exclaimed, "Candies!"  Guess what he ate first? 😛